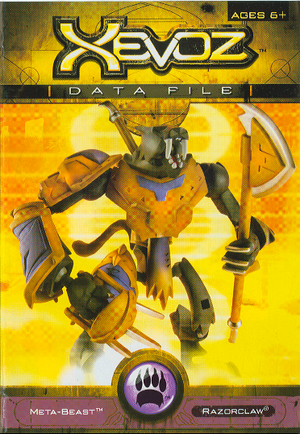 Razorclaw are panthers of the Meta-Beast.
Bio
Night guards for the Meta-Beast village. Fierce fighters, skilled stalkers and exceptional hunters.
Weapons
Their fangs
Their claws
Steel Claw
Rune Slash (Long Handle Axe)
Machete
Boxing gloves
Special Ability
Advanced Night Vision Capabilities
Retractable Claws that slash through armor like day-old butter
Trivia
A Razorclaw, along with an Inferno Fury, is a playable character in the Xevoz Showdown game.
Gallery
Ad blocker interference detected!
Wikia is a free-to-use site that makes money from advertising. We have a modified experience for viewers using ad blockers

Wikia is not accessible if you've made further modifications. Remove the custom ad blocker rule(s) and the page will load as expected.