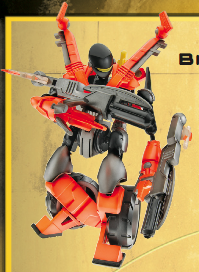 Transcorcher are transforming robots of the Biomecha.
Bio
Your basic nightmare in a tin can. Most durable mecha format, built for inhospitable environments with hazard ratios up to and exceeding the Vapor Swales of the Wounded Lands. Can reconfigure into different attack models to handle virtually any terrain, but may lose some shield strength while reconfiguring is in progress.
Special Ability
Can transform into an ATV.
Weapon
Both are usable in both forms:
Trivia
Transcorchers are based on Transformers.